AbiBinit! Litter Picking Initiative
Are you fed up with litter blowing around in the street? Did you know that a high profile litter picking session raises people's awareness and improves their behaviour? Read on…

Many of us, while going about our daily lives, will usually bin other people's litter. Sadly, others simply don't care and throw it on the ground, where it blows around or piles up. Litter is unhealthy and costly for everyone, affecting the environment, crime rates, and even property prices. AbiBinit! is based on the OxClean initiative and has been formed to help keep all areas of our lovely town tidy and free of litter.
"One of the things that's fundamental to human nature is that we imitate the actions of those around us." So said Robert Cialdini, emeritus professor of psychology and marketing at Arizona State University, who has conducted a number of landmark studies in littering and littering prevention. AbiBinit! believe we should encourage people to imitate litter pickers rather than litter throwers.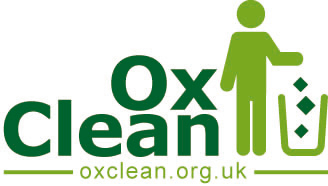 The Friends of Abingdon fully support the AbiBinit! initiative, as do the following organisations: OxClean, Abingdon Lions, Vale of White Horse District Council, South Oxfordshire District Council, Friends of Radley Lakes, Abingdon Green Gym, Kingfisher Canoe Club, Abingdon Carbon Cutters, Abingdon Chamber of Commerce, and Keep Britain Tidy.

Follow AbiBinit! on Facebook – Click the logo on the right >>
Future Litter Picks
Note: litter picking equipment will be supplied
Borough Walk, Wootton Road, Northcourt Road Litter Pick
Saturday 7 March
Meet up Point: Borough Walk, green area opposite entrance to Abingdon & Witney College OX14 1JD – some street parking available in the area
Time: 10am until 1pm
Tesco, Marcham Road, perimeters and surrounding areas Litter Pick
Saturday 28 March
Time: 10am until noon
Meet up Point: Opposite Tesco car park by the start of the Ock Valley Walk
River and River Bank Litter Pick
Sunday 26 April
Time: 10am until Noon Approx
Meet up Point: Abingdon Lock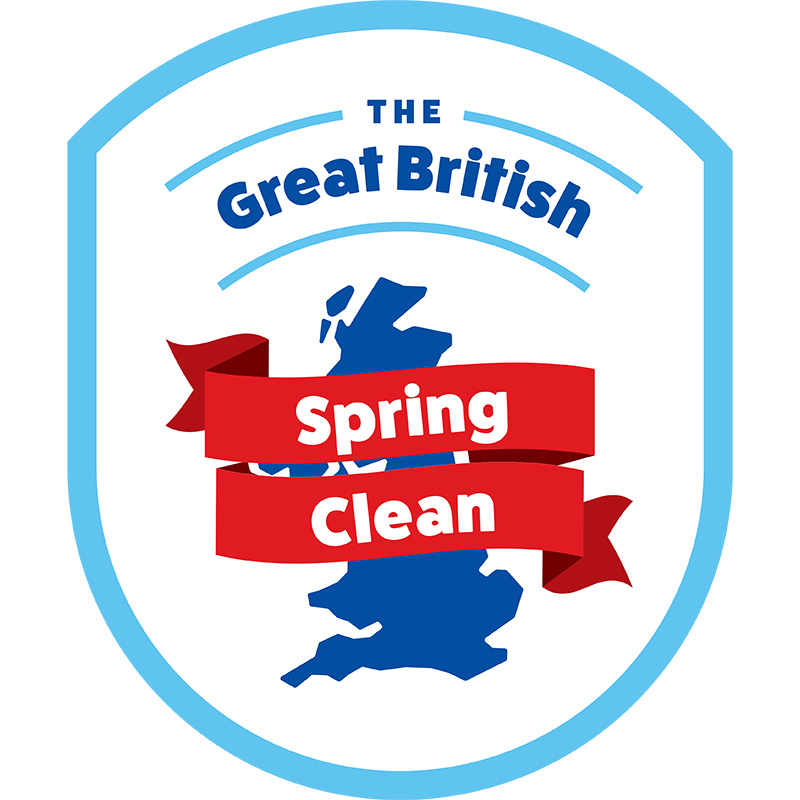 The Big Abingdon Spring Clean
Leap into The Abingdon Big Spring Clean from Saturday February 29th 2020. The Great British Spring Clean is run in association with Keep Britain Tidy and is held annually through the whole of March. For details of individual Abingdon litter picks during the Great British Spring Clean, please keep an eye on the Future Litter Picks schedule above.
If you would like to arrange your own group litter pick please order your equipment in good time by emailing the South and Vale Waste Team.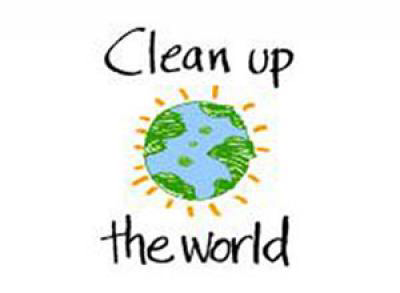 Anytime Litter Picks
Group litter picks can be organised at any time throughout the year. If you require litter picking equipment please email the South and Vale Waste Team. Please give them at least two weeks notice and leave any bags at a prearranged collection site.
Please note: The waste team can only supply litter picking equipment for organised groups, not individuals. Please contact AbiBinit! if you need help with individual equipment.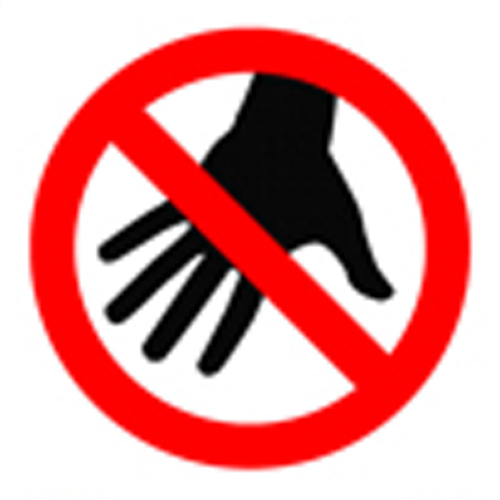 Tips and Guides for Organising a Litter Pick
Make sure your volunteers are well briefed, i.e meeting time and place. If possible offer maps of the area to be worked on.
Reserve your litter picking equipment in good time and ensure that you will have enough for everyone.
On the day hold a short briefing before starting.
Make sure that everyone is aware of health and safety guidelines. See this LitterAction web page which has lots of information on how to organise a litter pick.
Needles, syringes, and hazardous waste should not be disturbed. Please report to the South and Vale Waste Team as soon as possible.

Retailers
We are keen to see local retailers, food outlets, and pubs support the AbiBinit! initiative by keeping the outside of their premises (front and back) clear of litter. This will help to keep Abingdon a clean and attractive place. Retailers supporting AbiBinit! will receive:
a certificate to display in their premises and on their Website for marketing purposes.
publicity on Social Media for supporting AbiBinit!.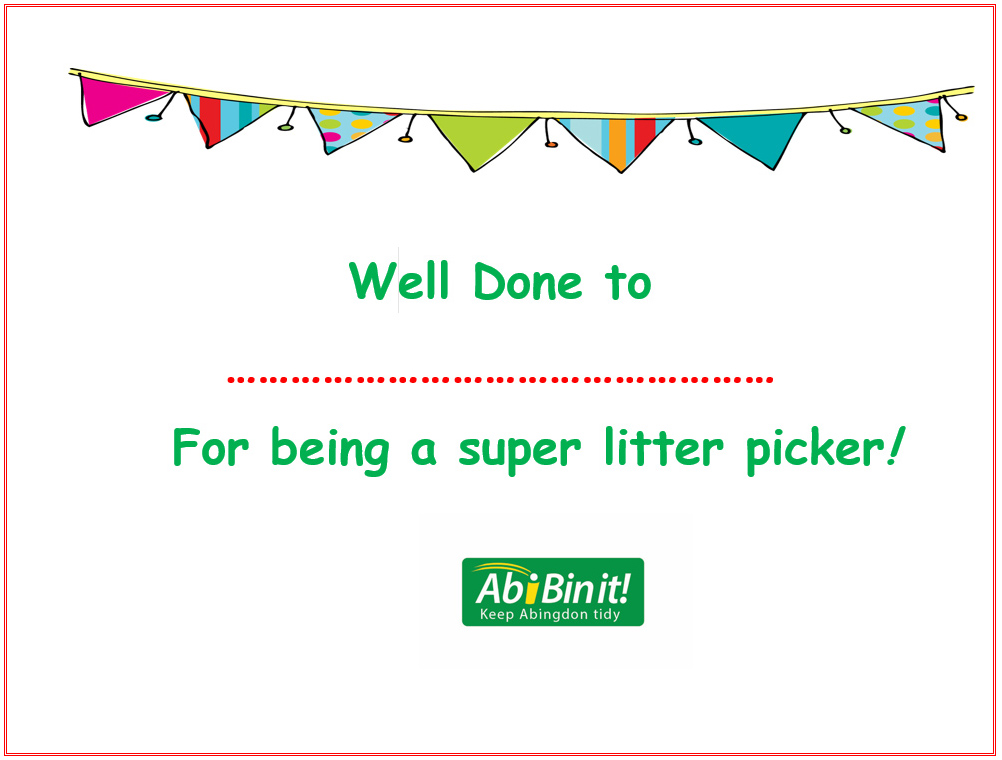 Children's Litter Picks
We will endeavour to hold a children's litter pick on one Saturday during the summer months. Parents should collect and return equipment to the organiser and accompany children during their litter pick. Children will receive a fun certificate for taking part.
Please note: The Council waste team can supply child-size litter picks for groups of children.
Youth Groups, Brownies, Guides, Cubs, and Scouts
AbiBinit! is keen to encourage these groups to get involved in regular litter picking, and will help and support a litter pick as much as we can.
Schools
AbiBinit! is in contact with many local primary and secondary schools. We encourage pupils to join in with our regular group litter picks and also to litter pick around their schools. Use this link to Biniteducation to find an excellent teaching resource. Also, the LitterAction Schools web page provides some very useful material.
Email Contact List
We are always looking for volunteers who can spare a few hours to help out with administration and help organise our group litter picks.
AbiBinit!: contact Helen – we need volunteers so please contact Helen if you can help in any way.
To request litter picking equipment, contact the South and Vale Waste Team.
To report overflowing bins or evidence of fly tipping, or to request a new bin, a replacement bin, and other issues, contact Biffa.
To report large items of waste in waterways, contact the Environment Agency.

Keep up-to-date – click to read our latest Newsletter >>