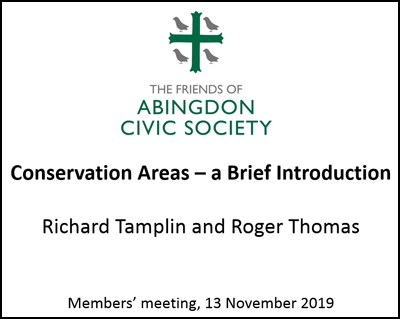 Overview of Conservation
For many Civic Societies, helping to preserve and enhance their local Conservation Areas is a key part of their role, and this is an area our Society hopes to do much more on in future. We are therefore delighted that Abingdon Town Council has invited us to work with them on a Conservation Area Appraisal for the Albert Park Area and will post more about it on this website as work progresses.
At our members' meeting in November 2019, Richard Tamplin and Roger Thomas gave a very interesting presentation on Conservation Areas – what they mean, their significance and how they affect Abingdon. Their presentation (a PowerPoint file) can be downloaded by clicking the image of their opening slide (above, right) . Note: this file is over 9MB in size, so may – depending on the speed your Internet connection – take some time to download.
In due course we would like to propose an Appraisal for the Town Centre Conservation Area and we are also considering whether any other areas of the town might benefit from designation as a Conservation Area. We would welcome comments on this.